The recent conference held at the Royal Society of Medicine was a huge success with delegates from all sectors excited to try the latest neurotechnology, share their work, and hear from the eminent speakers. The message has been loud and clear and we have responded, keep your eye on our socials and sign up to our newsletter because we WILL run a MiNT 2024!

Our MiNT (Masterclass in Neurotechnology) mission is to bridge the gap between industry, practitioners and patients. The packed agenda gave us an opportunity to share different perspectives on how to integrate current developments, research findings and the use of neurotechnology into a variety of environments, across the NHS and clinical practice.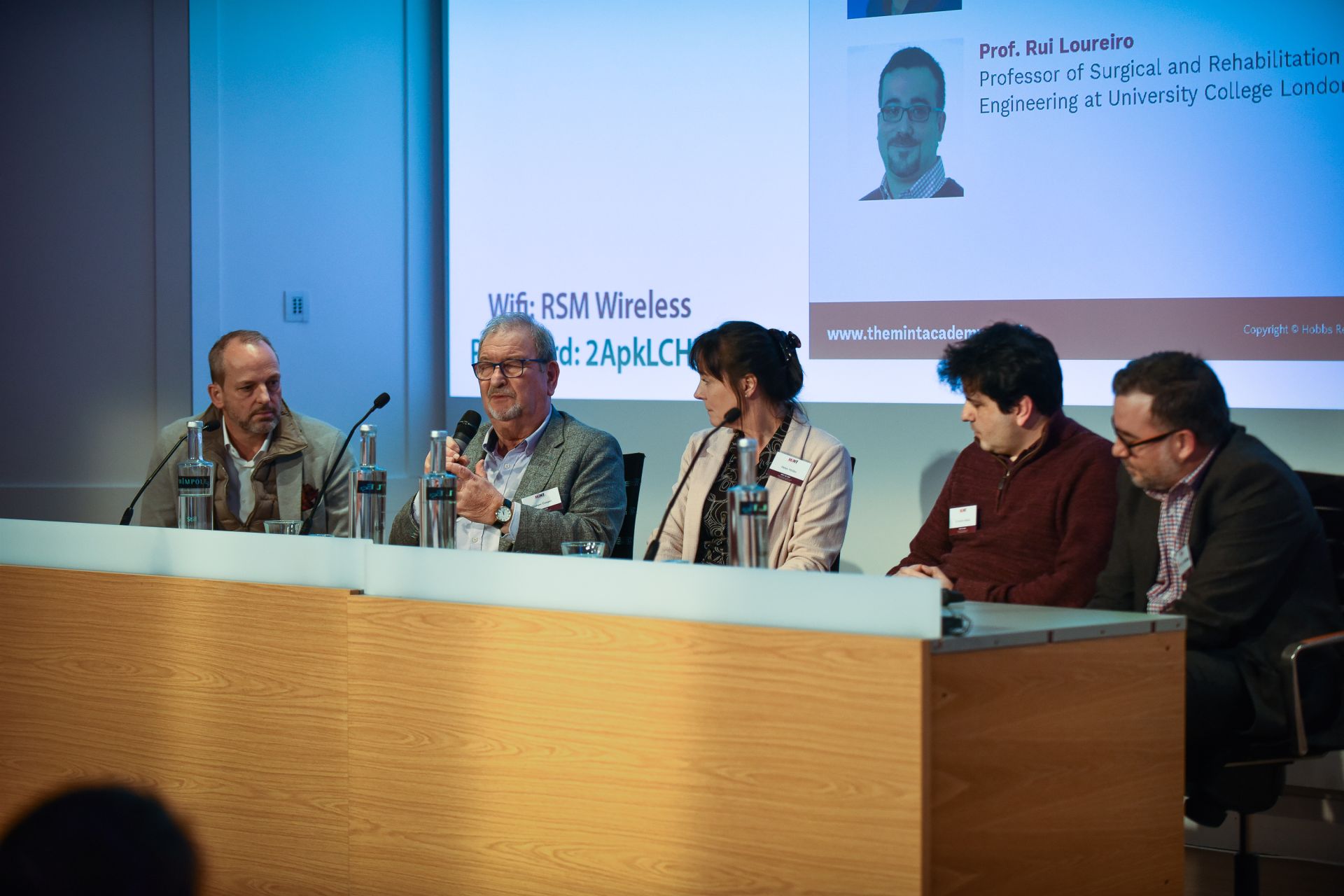 From the left:
Prof Robert Riener, Professor for Sensory-Motor Systems at the Department of Health Sciences, ETH Zurich, Graham Cooper, Expert Patient & Stroke Survivor, Helen Hobbs, Director of Hobbs Rehabilitation, Andre Hallack, Director of Beautiful Voice and Prof Rui Loureiro, Professor of Surgical and Rehabilitation Engineering at University College London.
Without doubt, the star of the show was Graham Cooper, our expert patient, who delivered a witty and immersive insight to his experience of living with the impacts of Stroke and how intensive therapy at Hobbs Rehabilitation has hugely benefited his life.

The day brought together representatives from all parties to problem solve how we change the current status of individuals from the UK and the rest of the Rehab world working independently, to speak as one voice and to harness that influence. Many commented that this message needs to reach the government and our NHS.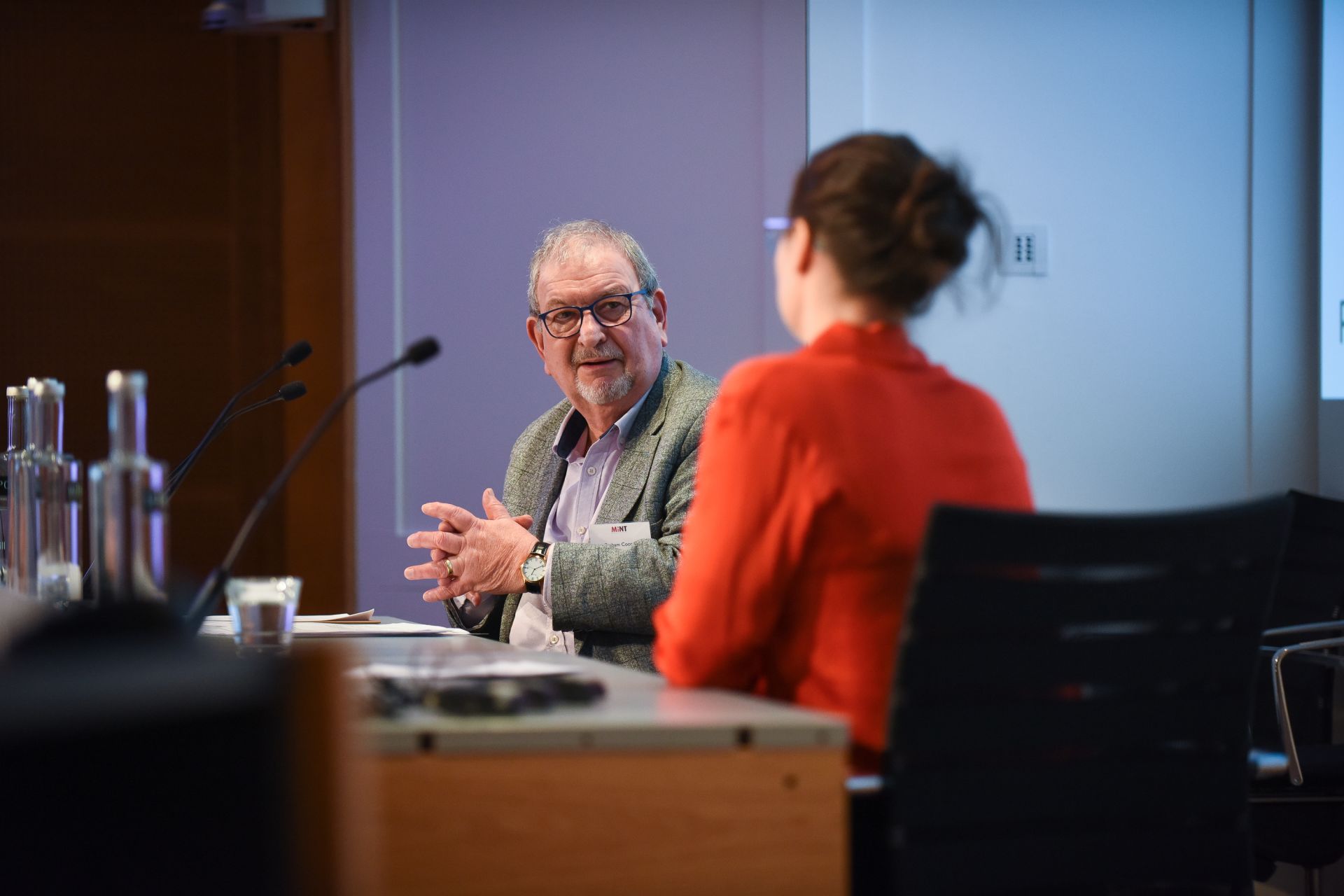 Graham Cooper having a conversation with Alison Watt, The MiNT Academy lead exploring why it is essential to involve end-users in design processes.
Jen Mellows, Operations Lead from Hobbs Rehabilitation told us "We want the NHS commissioners and those setting the guidelines on what constitutes rehabilitation and what does not, and what constitutes healthcare technology, to recognise and provide for the importance of neurotechnology, and access to it, so that the right rehab is provided to the right patients at the right time. That has to include conversations with the Department of Health, Health Education England, NICE; the regulators and, commissioners at the NHS but also the private rehab providers and industry. At ground level, clinicians are using technology, developers are producing the technology, but it is not being recognised at a strategic level within the NHS, or a nationwide level, or internationally and that is what we are determined to change. Over the past couple of years we have been talking to parties from other countries and they are taking these steps in their own environments. MiNT is bridging the gap between these parties, harnessing our joint mission and using our collective voice to drive change".

A vital element of our events is to network and meet with our sponsors and exhibitors who were available to showcase the latest neurotechnology devices, including VR, sensor-based and robotic solutions.

Feedback has strongly indicated that the time given at the conference to networking across the range of delegates has been invaluable. Meaningful conversations were had and productive relationships forged. The energy was infectious and people left excited by the upswing in momentum of a new approach being adopted more widely, with many hopeful that the message will be carried through to the NHS for the betterment of patient access to rehabilitation.
MiNT is for everyone working with or interested in neurotechnology
IDT clinicians, academics, researchers, case managers, engineers, technology developers, patients and companies.

To find out how you can get involved, visit our website or email enquiries@themintacademy.co.uk.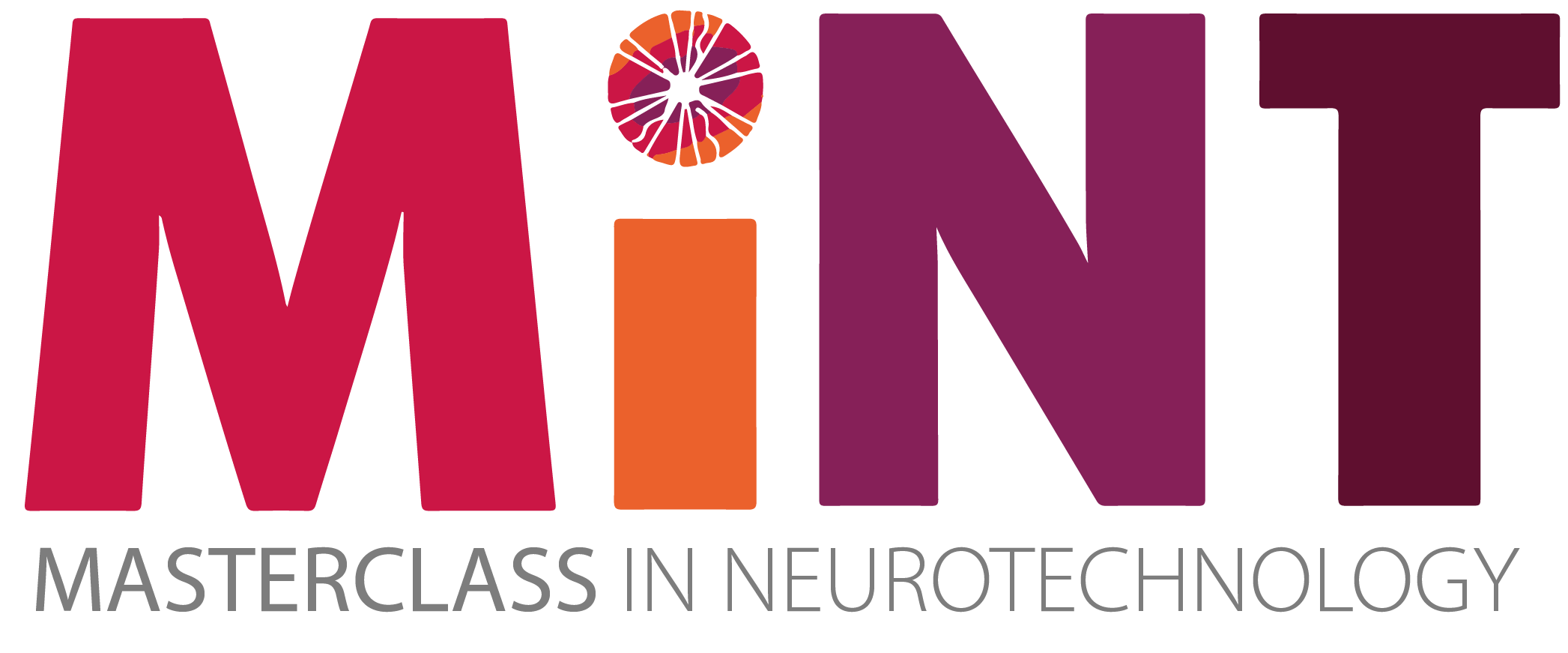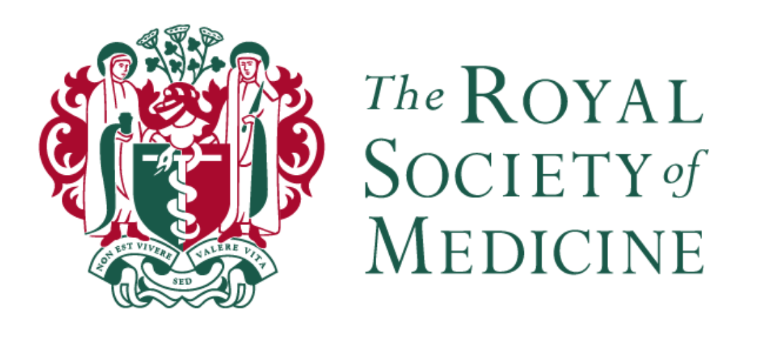 Alison Watt
The MiNT Academy Lead
Alison is The MiNT Academy Lead and a Specialist Neurological and Research Physiotherapist at Hobbs Rehabilitation, UK. With over 10 years of clinical experience within specialist neurological services, Alison previously worked in the NHS specialising in stroke and neurorehabilitation.
As a previous NHS AHP Ward Manager, Alison has always worked within innovative therapy roles. This continues at The MiNT Academy, a growing neurotechnology platform combining clinical education and product development.
Alison coordinates research, development and education activities to enable increased accessibility to clinically effective devices.
As Principle Investigator in technology trials, she has aided the development of devices from concept to market, with recent focusses on Virtual Reality and Exoskeletons. Alison has presented at and organised numerous national and international conferences, including as MiNT Chair at RehabWeek 2022. She has also completed a Post-Graduate Certificate in Medical Education and lectures at multiple UK academic institutions.
Alongside this, Alison works clinically at Hobbs Rehabilitation Intensive Neurotherapy Centre in Bristol, combining the use of therapy devices with conventional hands-on treatment, for outpatients with a variety of neurological conditions. Alison uses all of her roles to passionately drive forward the use of neurotechnology in clinical practice to optimise opportunities and outcomes for patients.
Helen Hobbs
The MiNT Academy Development Team
Helen is a specialist neurological physiotherapist with over 25 years of specialist clinical experience and extensive clinical skills including advanced Bobath training. She has a special interest inclinical education, training and research. Helen has held postgraduate clinical training roles at both Kings College NHS Hospital London Neuroscience Centre and Southampton University Hospital NHS Trust before establishing Hobbs Rehabilitation in 2005.
Helen's teaching and leadership skills resulted in international scholarships and fellowships taking Helen to the USA and South Africa. She has presented both nationally and internationally. Helen has close links with several academic institutions including Southampton, Imperial College, Loughborough , Portsmouth and Winchester Universities to provide clinical leadership for the design of future healthcare technologies and research projects.
Her publications have included the effects of robotic assisted gait training on vascular health in strokes and spinal cord injured patients and the European rehabilitation guidelines for MS patients post stem cell transplant.
Amy Dennis-Jones
The MiNT Academy Research Lead
Amy has over 20 years experience working within the field of Neurological rehabilitation. She has worked with a variety of settings capturing the full rehabilitation pathway from acute through to the community.
Since working for Hobbs Rehabilitation in 2015, Amy has worked with an array of neurotechnologies and is a trained Rewalk exoskeleton clinician. She has presented at varying conference and study days, and is on the local committee for ACPIN, a specialist interest group for physiotherapists working in Neurology.
Amy's position within Hobbs Rehabilitation has evolved into a
split clinical and research role. She
is part of the core development team working on MiNT, an innovative neurotechnology platform combining clinical education and product development as
well as leading on research projects and further collaborations.
Outside of physiotherapy, Amy is a qualified
yoga teacher and combines her experience with rehabilitation to teach chair/adaptive yoga classes.
Chrissy Bibby
The MiNT Academy Events Lead
Chrissy has worked in the field of adult acquired neurological speech and language therapy for over 15 years, initially in the NHS before joining Hobbs Rehabilitation, where she leads the Speech & Language therapy team. Clinically, she has a special interest in motor speech disorders and rehabilitation of the facial nerve.

Chrissy trained as a teacher before embarking on her career in neurological rehabilitation and enjoys using her teaching skills in all areas of her work with Hobbs Rehabilitation and MiNT.

As Events Lead for The MiNT Academy, Chrissy is embracing the opportunity to discuss with fellow clinicians, academics and industry partners the benefits of using neurotechnology with our communication impaired clients, while encouraging further development in this vital area.

Outside of speech and language therapy, Chrissy enjoys swimming, singing with her local rock choir, baking, sewing, and camping with her family.
Laura Marriott
The MiNT Academy Education Lead
Laura is a specialist Neurological Occupational Therapist with 15 years of experience, over 12 years of which is
in the neurological sector. Laura has worked in the NHS from acute care through to community rehabilitation and outpatients and now works in the private sector where she is the lead Occupational Therapist for Hobbs Intensive outpatient rehabilitation service, coordinating intensive rehabilitation packages and treating patients with complex neurological requirements.
Her role within Hobbs has evolved and she has split clinical and research responsibilities. She is part of the MiNT Academy Development Team who have delivered an innovative neurotechnology platform combining clinical education and product development. Her role also involves leading on research projects and further collaborations. Laura has expert clinical skills used to implement neuro assistive and rehabilitation technology into functional contexts building the links between the companies and the patients. Laura presented at Virtual RehabWeek 2021 and is excited to be presenting at RehabWeek 2022 in Rotterdam, showcasing the merits and application of collaboration between skilled clinicians and engineers to create a device that has longevity with both clinicians and patients alike.
Outside of Hobbs Laura enjoys a busy family life, hiking, roller skating and painting.
Lizzie Williams
The MiNT Academy Development Team
Lizzie is a Specialist Neurological Physiotherapist working at Hobbs Rehabilitation since May 2020. She also has a background in orthopaedics, frailty and inpatient rehabilitation. Lizzie jumped at the opportunity to be involved in The MiNT Academy to combine her interest in technology and love for providing high quality rehabilitation for patients. Lizzie brings the perspective of a physiotherapist who routinely utilises neurotechnology with patients as well as teaching and supporting other clinicians in embedding it into practice.
Rachael Edwards
The MiNT Academy Development Team
Rachael Edwards developed
a specialist interest in the role
of technology in upper limb neurorehabilitation, whilst working as an Occupational Therapist on the upper limb program at The National Hospital for Neurology and Neurosurgery, Queen Square.
Rachael has relocated to Bristol and is setting up an Occupational Therapy service
at Hobbs Rehabilitation Intensive Neurotherapy Centre, where she continues to explore the use of technology to support delivering intensive upper limb rehabilitation.
Louis Martinelli
The MiNT Academy Development Team
With degrees in Sport & Exercise Science
(BSc) and Physiotherapy (MSc pre-registration), Louis has over ten years' experience of working in neurological rehabilitation and 15 years in the exercise industry.

Trained in both the Ekso GT and ReWalk, Louis has been using exoskeletons on a daily basis with a variety of medical conditions at Hobbs Rehabilitation for seven years. He has also experienced many patient trials/assessments in a variety of other exoskeleton manufactures.

Louis has helped establish a research partnership between Hobbs Rehabilitation and The University of Winchester, which in 2019 published an article on the effects exoskeleton rehabilitation can have on the vascular system in the Journal of Spinal Cord Medicine.
Created with